(Images) 23 Incredible Marianne Williamson Picture Quotes
Marianne Williamson is an incredibly strong Women, Spiritual teacher and Author to 10 best selling books that have impacted thousands of people around the world.
I had the pleasure of seeing Marianne Williamson speak when I was in LA earlier this year and she draws from the Course Of Miracles and encourages open discussion about issues that come up from her talk that relate to real life issues and problems people are facing.
I was so inspired by her story and the love she spreads out to the world, I have put together a collection of the best Marianne Williamson Picture Quotes for you!
23 Incredible Marianne Williamson Picture Quotes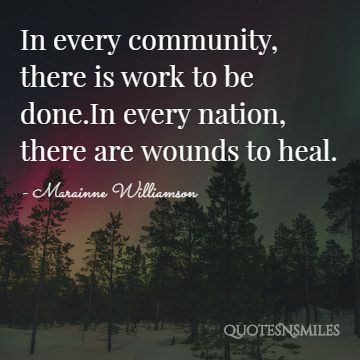 In every community, there is work to be done.In every nation, there are wounds to heal.
– Marainne Williamson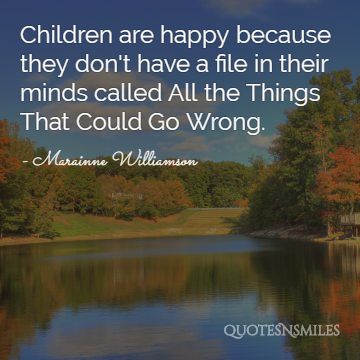 Children are happy because they don't have a file in their minds called All the Things That Could Go Wrong.
– Marainne Williamson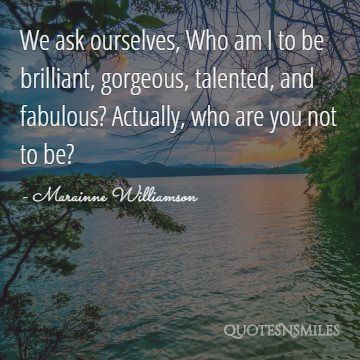 We ask ourselves, Who am I to be brilliant, gorgeous, talented, and fabulous? Actually, who are you not to be?
– Marainne Williamson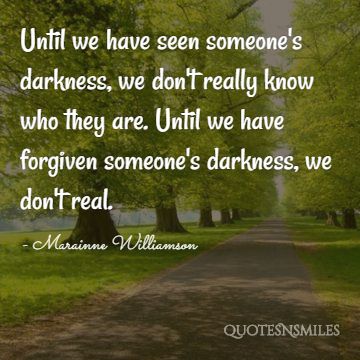 Until we have seen someone's darkness, we don't really know who they are. Until we have forgiven someone's darkness, we don't real.
– Marainne Williamson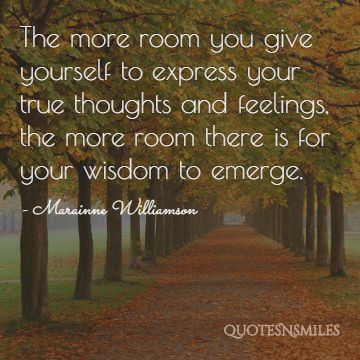 The more room you give yourself to express your true thoughts and feelings, the more room there is for your wisdom to emerge.
– Marainne Williamson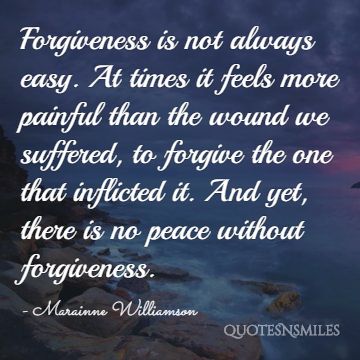 Forgiveness is not always easy. At times it feels more painful than the wound we suffered, to forgive the one that inflicted it. And yet, there is no peace without forgiveness.
– Marainne Williamson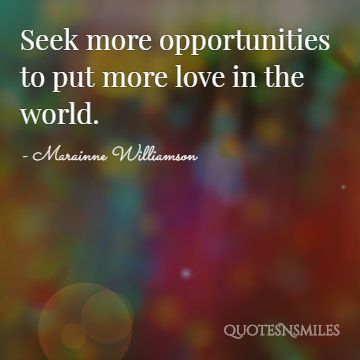 Seek more opportunities to put more love in the world.
– Marainne Williamson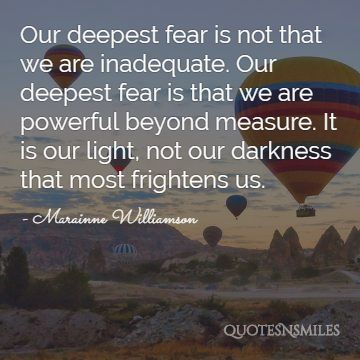 Our deepest fear is not that we are inadequate. Our deepest fear is that we are powerful beyond measure. It is our light, not our darkness that most frightens us.
– Marainne Williamson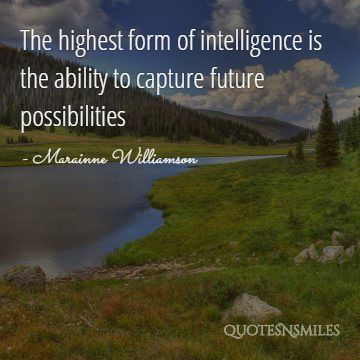 The highest form of intelligence is the ability to capture future possibilities
– Marainne Williamson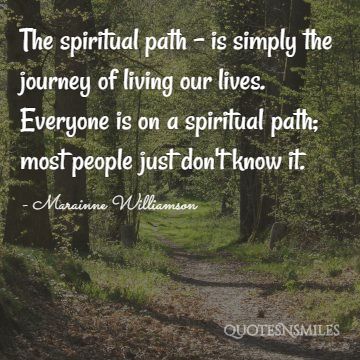 The spiritual path – is simply the journey of living our lives. Everyone is on a spiritual path; most people just don't know it.
– Marainne Williamson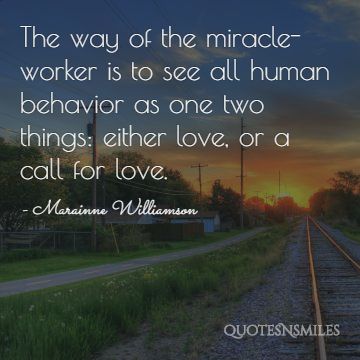 The way of the miracle-worker is to see all human behavior as one two things: either love, or a call for love.
– Marainne Williamson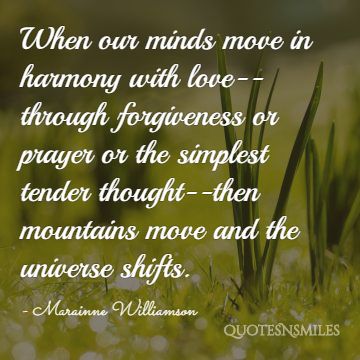 When our minds move in harmony with love–through forgiveness or prayer or the simplest tender thought–then mountains move and the universe shifts.
– Marainne Williamson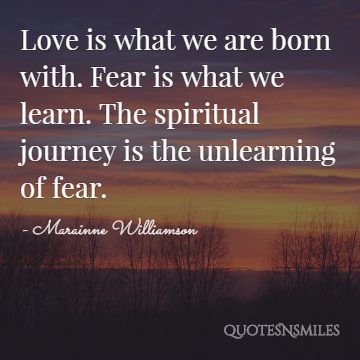 Love is what we are born with. Fear is what we learn. The spiritual journey is the unlearning of fear.
– Marainne Williamson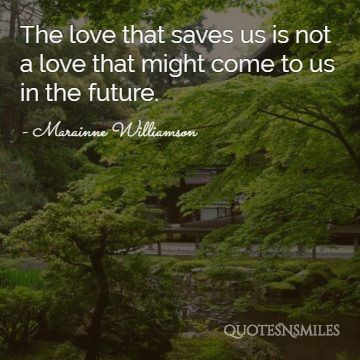 The love that saves us is not a love that might come to us in the future.
– Marainne Williamson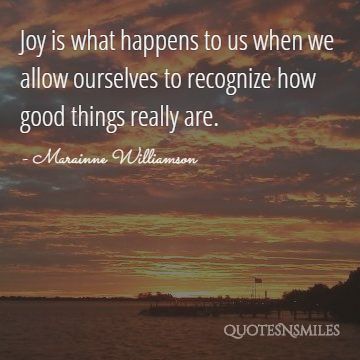 Joy is what happens to us when we allow ourselves to recognize how good things really are.
– Marainne Williamson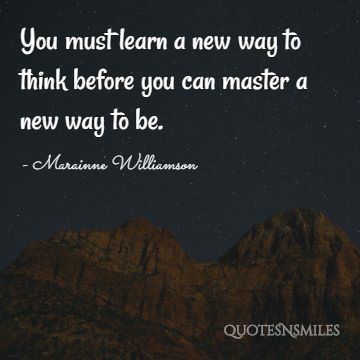 You must learn a new way to think before you can master a new way to be.
– Marainne Williamson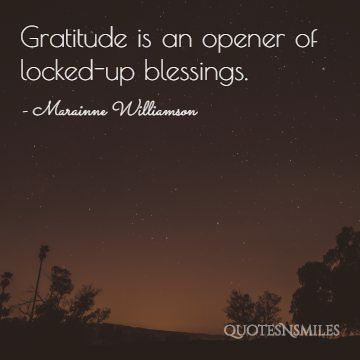 Gratitude is an opener of locked-up blessings.
– Marainne Williamson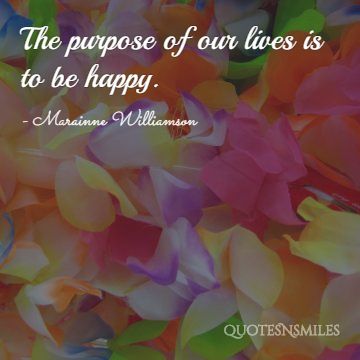 The purpose of our lives is to be happy.
– Marainne Williamson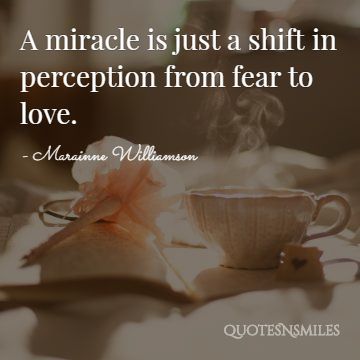 A miracle is just a shift in perception from fear to love.
– Marainne Williamson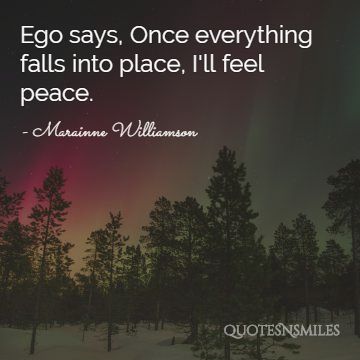 Ego says, Once everything falls into place, I'll feel peace.
– Marainne Williamson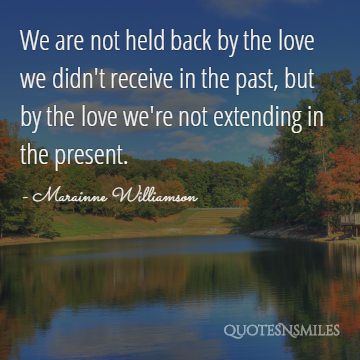 We are not held back by the love we didn't receive in the past, but by the love we're not extending in the present.
– Marainne Williamson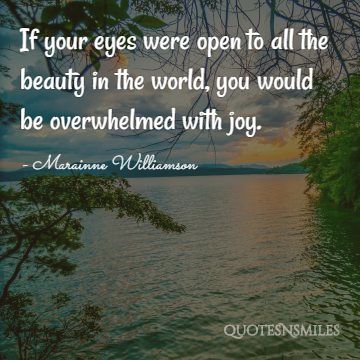 If your eyes were open to all the beauty in the world, you would be overwhelmed with joy.
– Marainne Williamson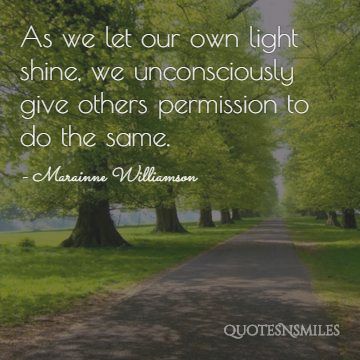 As we let our own light shine, we unconsciously give others permission to do the same.
– Marainne Williamson
I hope you enjoyed these Picture Quotes and they inspired you to live a beautiful, fulfilled day today. Thanks for visiting QuotesNSmiles.com