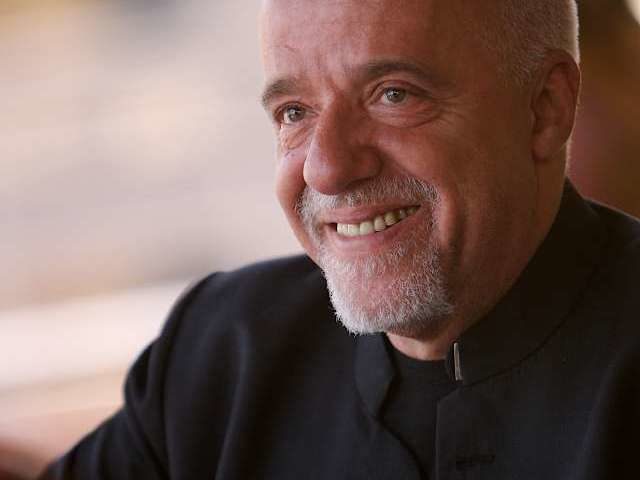 (Images) 26 Incredible Paulo Coelho Picture Quotes
Paulo Coelho is a Brazilian lyricist and novelist who has become one of the most widely read authors in the world today. He is famous for his beautifully written and inspiring work such as; The Alchemist, The Aleph, 11 Minutes, The Pilgrimage, Just to name a few.
We have created some unique inspiring Paulo Coelho Picture Quotes for you to enjoy!
26 Incredible Paulo Coelho Picture Quotes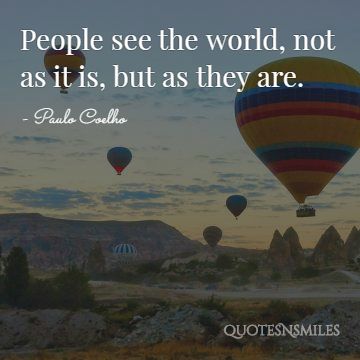 People see the world, not as it is, but as they are.
– Paulo Coelho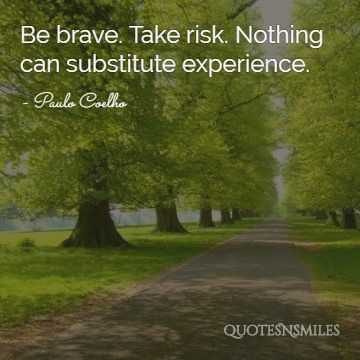 Be brave. Take risk. Nothing can substitute experience.
– Paulo Coelho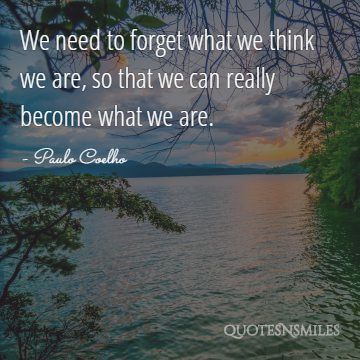 We need to forget what we think we are, so that we can really become what we are.
– Paulo Coelho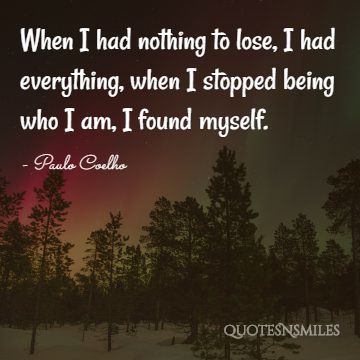 When I had nothing to lose, I had everything, when I stopped being who I am, I found myself.
– Paulo Coelho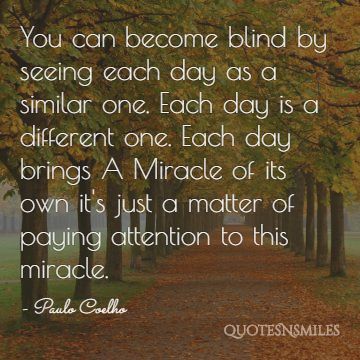 You can become blind by seeing each day as a similar one. Each day is a different one. Each day brings A Miracle of its own it's just a matter of paying attention to this miracle.
– Paulo Coelho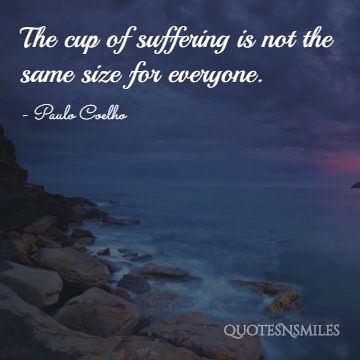 The cup of suffering is not the same size for everyone.
– Paulo Coelho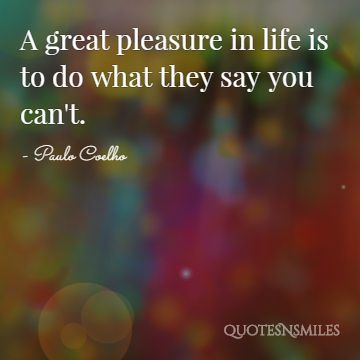 A great pleasure in life is to do what they say you can't.
– Paulo Coelho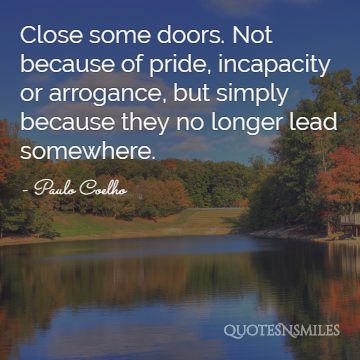 Close some doors. Not because of pride, incapacity or arrogance, but simply because they no longer lead somewhere.
– Paulo Coelho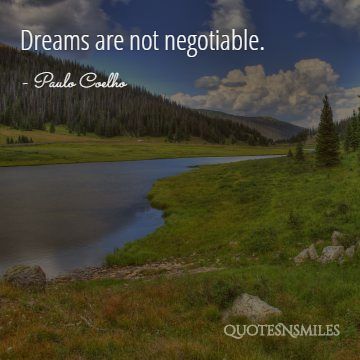 Dreams are not negotiable.
– Paulo Coelho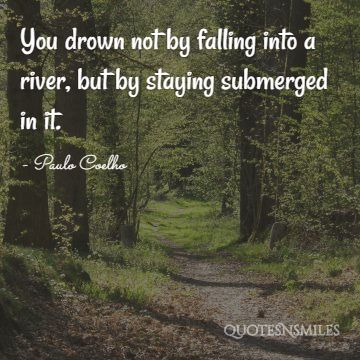 You drown not by falling into a river, but by staying submerged in it.
– Paulo Coelho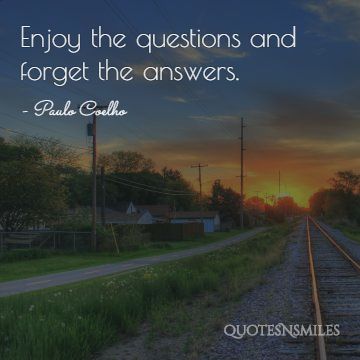 Enjoy the questions and forget the answers.
– Paulo Coelho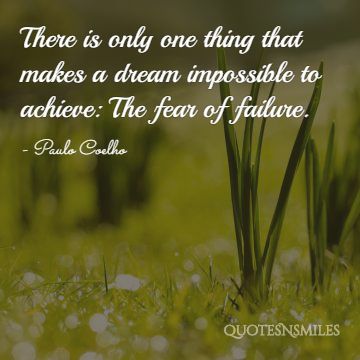 There is only one thing that makes a dream impossible to achieve: The fear of failure.
– Paulo Coelho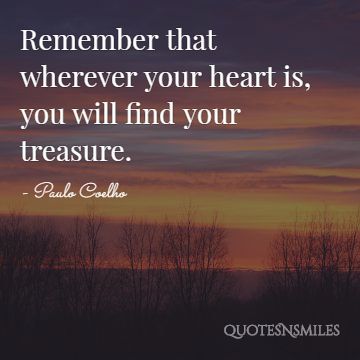 Remember that wherever your heart is, you will find your treasure.
– Paulo Coelho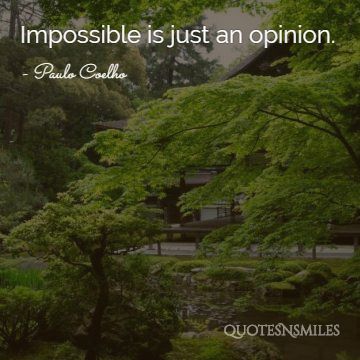 Impossible is just an opinion.
– Paulo Coelho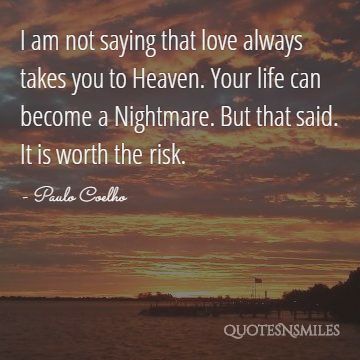 I am not saying that love always takes you to Heaven. Your life can become a Nightmare. But that said. It is worth the risk.
– Paulo Coelho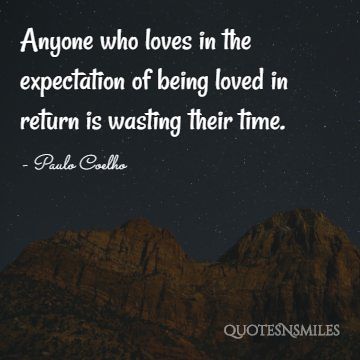 Anyone who loves in the expectation of being loved in return is wasting their time.
– Paulo Coelho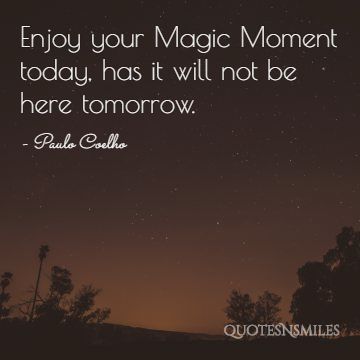 Enjoy your Magic Moment today, has it will not be here tomorrow.
– Paulo Coelho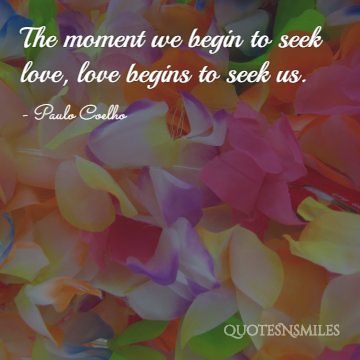 The moment we begin to seek love, love begins to seek us.
– Paulo Coelho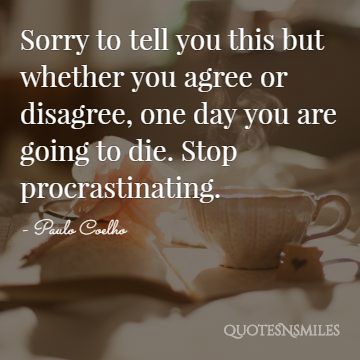 Sorry to tell you this but whether you agree or disagree, one day you are going to die. Stop procrastinating.
– Paulo Coelho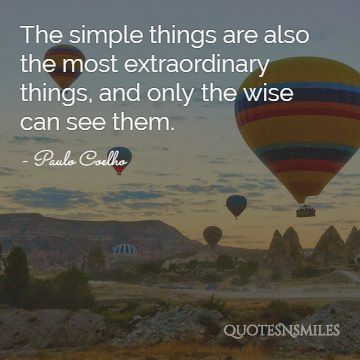 The simple things are also the most extraordinary things, and only the wise can see them.
– Paulo Coelho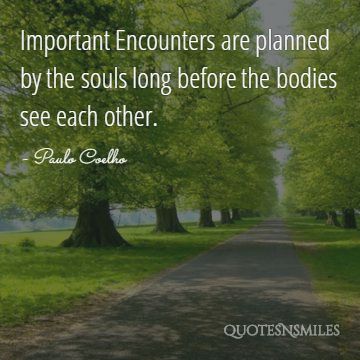 Important Encounters are planned by the souls long before the bodies see each other.
– Paulo Coelho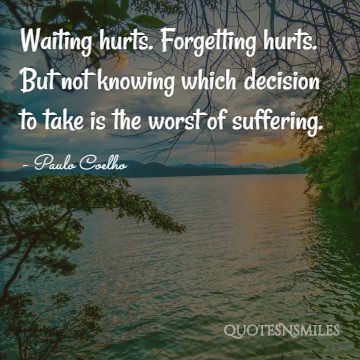 Waiting hurts. Forgetting hurts. But not knowing which decision to take is the worst of suffering.
– Paulo Coelho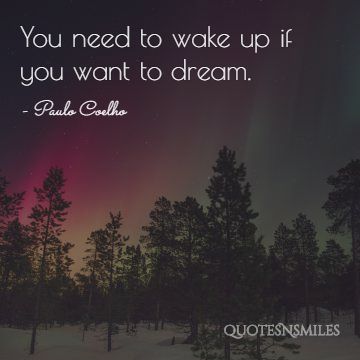 You need to wake up if you want to dream.
– Paulo Coelho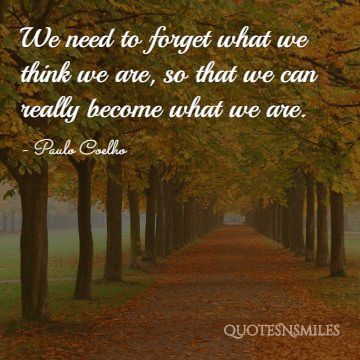 We need to forget what we think we are, so that we can really become what we are.
– Paulo Coelho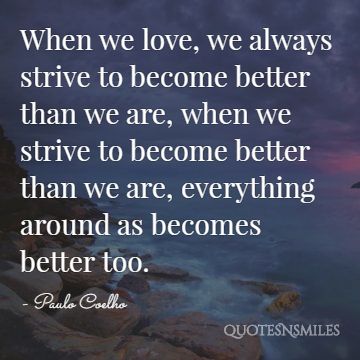 When we love, we always strive to become better than we are, when we strive to become better than we are, everything around as becomes better too.
– Paulo Coelho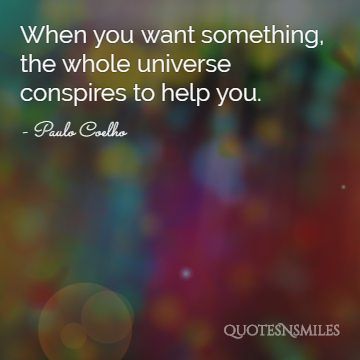 When you want something, the whole universe conspires to help you.
– Paulo Coelho
We hope you enjoyed this collection of Inspiring Paulo Coelho Picture Quotes and thanks for visiting QuotesNSmiles.com